Applied Learning Programme
Applied Learning Programme (ALP)
The ALP Programme at Kellock Connects classroom learning with real-life applications and encourages students to creatively apply concepts to solve authentic problems. It focuses on evoking curiosity in learning, developing inventive thinking and encouraging a dare-to-try spirit.
Our school hopes to encourage all students to 'Innovate to Make a Difference' , which embodies the school's aspirations and drive in realising the tenets of our school's vision of 'A Christ-centred and future-oriented learning community where every child will develop her unique giftedness to learn and lead, for others.'
Through the school's Interdisciplinary Project Work (IPW), we hope to sharpen and develop attributes of the KGOs, such as respect, responsibility, integrity, confident persons, self-directed learners and active contributors. The ALP is designed to enable all students to be intentional about solving multi-faceted problems by adopting an interdisciplinary perspective and approach.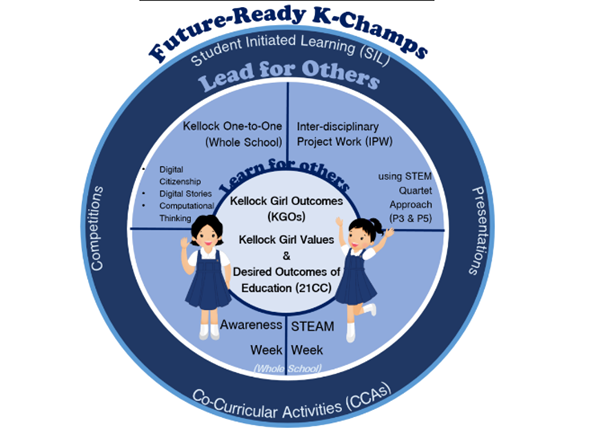 Our ALP Approach and platforms for students at CHIJ Kellock
The ALP will be delivered through a 3-tiered framework; Offer-Nurture-Excel (Similar to the school's LLP framework). Each tier of the ONE approach takes into consideration our students' needs, abilities, interests and development of 21st Century Competencies and SEL Competencies, which lead to the Kellock Girl Outcomes. The 3-tiered frame is designed to allow students to deepen their appreciation and application of skills progressively.
At the OFFER Tier, the school looks at providing a breadth of learning opportunities for students schoolwide. The main vehicles for delivering experiences at this first tier comprise existing programmes such as Interdisciplinary Project Work (IPW) @ Kellock, Digital Citiznship Education for all levels, and Computational Thinking and Digital Stories at the lower primary levels. We also design a STEAM week to inspire our girls into the World of Science, Technology, Engineering & Entrepreneurship, Art and Mathematics. Students will be involved in fascinating and engaging STEAM-related activities to have experiential learning in a variety of subjects and disciplines.
The NURTURE tier provides in-depth development of the students' interest while the EXCEL tier allows opportunities for students with the aptitude to excel in their chosen fields or to further stretch their talents.
To cater to students with aptitude, the school plans for opportunities for selected students to explore and investigate environmental, social and community concerns / issues at a deeper level through participation in relevant zonal and national presentations and competitions under the EXCEL Tier.
Key Programmes
Interdisciplinary Project Work
Building a Sustainable Future - Moving Towards ZERO WASTE
In our school's signature Applied Learning Programme (ALP), Primary 5 students learn about the importance of caring for the environment and how they can be the agents of change in creating an environment that is pollution free, by moving towards a ZERO WASTE environment.
As part of the IPW experience, students learn about the Singapore Green Plan 2021, 3Rs1U and how we can protect the environment. Talks organised help students to empathise with the real-life problems caused by waste and how this impacts the environment.
Kelllock One-to-One
In CHIJ Kellock, we aim to enrich students' learning environment and equip them with the necessary competencies and Kellock Girl Outomes to succeed in the 21st century through the various programmes like Digital Stories and Computational Thinking programme at the lower primary, and Digital Citizenship Education for Primary 1 to 6 students.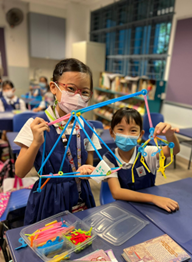 TinkerElla Programme (Make-Build-Code)